Author: Nick LaFave
Go to Source
EdTech Café is a podcast series produced by the educational technology team at Stanford Medicine.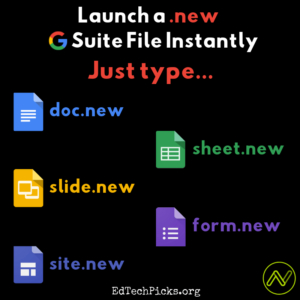 Looking for a quick way to create a new Google Doc? Just type doc.new and a new Google Doc will open instantly. The .new shortcut works for nearly all types of G Suite files.  It's also forgiving in allowing variations of the shortcut. For example, you can open a new Google Sheet by typing sheet.new,… Read more
The post A .new Shortcut for Creating G Suite Files appeared first on Nick's Picks For Educational Technology.
A .new Shortcut for Creating G Suite Files