Author: Nick LaFave
Go to Source
EdTech Café is a podcast series produced by the educational technology team at Stanford Medicine.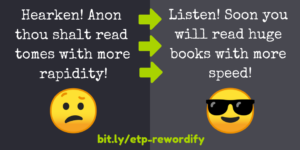 Rewordify Rewordify.com is not only the best text simplification tool I've seen, but it's also a great way to teach vocabulary. Plus it's totally free. The site has several step-by-step guides and tutorials that I have linked to throughout this post. Simplify Difficult Text Rewordify.com is the easiest way to simplify difficult text. Just copy… Read more
The post An Easier Way to Simplify Text and Teach Vocabulary – Rewordify appeared first on Nick's Picks For Educational Technology.
An Easier Way to Simplify Text and Teach Vocabulary – Rewordify