Author: eli.zimmerman_9856
{authorlink}
Go to Source
Asset Management Tools Help Time-Strapped K–12 IT Teams
eli.zimmerman_9856
Tue, 03/19/2019 – 22:03
Looking back, Robert Chinnici finds it hard to believe how ­overmatched he was. Until about a year ago, Acero Schools ­managed most IT assets for 15 schools and 7,500 ­students manually.
That might have been reasonable if the charter school network had IT staff on every campus. But Chinnici, the Chicago system's IT director, was operating with one system administrator and five help desk technicians. The calls they received weren't always straightforward.
"It could become overwhelming," Chinnici says. As director, he also fielded his share of tech calls — usually from someone in his department. The team's biggest challenge lay in the schools' lack of asset-tracking technology. 
"When you have multiple classrooms sharing different devices, you kind of expect that things will be misplaced," he says. "They'd say, 'Hey, this notebook is missing, and this teacher says it's here, but another teacher is telling us it's there. We don't know what to do.'"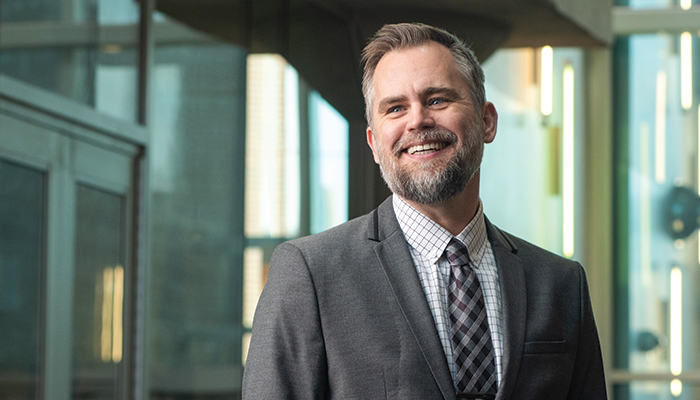 Robert Chinnici minimized the burden of device management through standardization. Photography by: Matthew Gilson.
Fortunately, in 2018 Acero launched an initiative to standardize its technologies. As part of the process, it's focused on procuring Chromebooks, mostly because they meet the needs of students across Acero's K–12 landscape. 
But the convertible tablets — Lenovo 300e devices featuring touch screens mounted on 360-degree hinges — also offer significant new capabilities that benefit IT management. 
First of all, the devices come with services and software that automate asset tracking, with locations for individual devices preassigned and wireless credentials preinstalled.
"When they arrive, all we have to do is import them into our master inventory. Once they're in there, if something goes missing, we just type in its serial number and it tells us where it's supposed to be," Chinnici says.
The software also includes Absolute Mobile Theft Management, which allows devices to be located with GPS — handy whenever something ends up in the wrong room or is moved off of its assigned cart.
"We can even lock it down and remotely wipe it if we need to," Chinnici says.
MORE FROM EDTECH: See how K–12 schools use professional services after one-to-one device rollouts.
K–12 Efficiency Starts with Intentional Planning
Count Acero Schools among the growing number of K–12 districts turning to new tools and services designed intentionally to streamline asset management. 
One recent survey by the Consortium for School Networking found that IT leaders in districts nationwide still struggle to balance tight budgets and understaffing with data-driven educational priorities and hardware-heavy initiatives like one-to-one computing. 
More than half of K–12 IT directors say their budgets don't allow them "to hire the personnel needed to support the tech assets that have already been purchased," CoSN reports. Stretched thin, they're mostly "reacting to technical problems" — instead of taking proactive measures to prevent them.
Asset Management Tools Help Time-Strapped K–12 IT Teams