Author: Brett Stewart
Go to Source
The Heart of the Matter
After 10 years and over 50 Gladiator Rock n Run events all over the United States, Dan "Nitro" Clark had a change of heart.
Actually, this change came in the form of a HEART ATTACK – and coupled with the tragic loss of his mother to cancer reshaped his perspective on life and what his goals were. Dan who you may remember as "Nitro" from the hit TV show American Gladiators decided to dedicate his time to helping people master their minds take charge and elevate their lives so they can have happiness success and fulfillment.
"Sports taught me about life. Almost dying taught me how to live." – Dan "Nitro" Clark
A (Final) Offer He Couldn't Refuse
As Dan was turning the page on Gladiator Rock n Run to the next chapter of his life, Brett and Kristen Stewart were growing even busier putting on events all over the country at schools, universities, groups, and corporate team building through their business Adventure Fitness. After building a relationship working together through Mud Run Guide for several years, Dan offered the rare opportunity to Brett and Kristen to continue to grow their events using the former Gladiator equipment. During their conversations, Brett and Kristen quickly realized that Dan's passion for Gladiator Rock n Run hadn't run its full course yet and the only way to honor him, his event, and all the participants over the last decade would be to hold one more final event – the Gladiator Rock n Roll Last Blast on May 9 in Phoenix, AZ – and Mud Run Guide's MRG10 discount will save you 10%!
"One of the first things I asked Dan was 'Based on your success at the last Rose Bowl event, why not keep putting on events when Gladiator Rock n Run is continuing to do well?' I then floated the idea of one last chance to say goodbye to an extremely memorable event – after all, we lost Warrior Dash and BattleFrog without so much as a chance to celebrate one final lap around the course. From there, we started evaluating what it would take to host an event – and where we could pull it off on such short notice." – Brett Stewart, Adventure Fitness
Goin' Back to Cali… er, Phoenix
While the majority of Gladiator Rock n Run events took place in SoCal, Dan and his crew had previously put on a couple of events in Phoenix over the years that did really well. With Brett and Kristen's ADV.FIT headquartered in the northern tip of the valley, a centrally-located venue location they had used before for 5k and 10k trail races was an instant fit. Adobe Dam Recreation Area is located just a mile off Arizona's main artery – Interstate 17 – and just over 25 minutes from Sky Harbor Airport. While the venue itself is a pretty spot nestled between the actual Adobe Dam to the south and the towering Thunderbird Mountain Conservation Park to the west, the combination of Victory Lane Sports Park and Six Flags Hurricane Harbor just steps away makes it the ideal location for an awesome party to not only participate in the FINAL Gladiator Rock n Run on May 9, but also to celebrate mom with the following day being Mother's Day. Victory Lane Sports Park will also be offering Mother's Day discounts at their on-deck restaurant, Jersey's.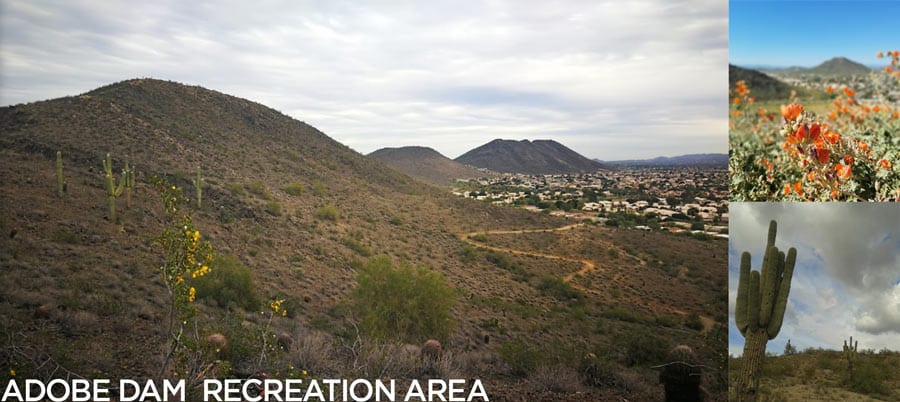 May 9 – Make a Splash… For Mom!
With Mother's Day 2020 falling on Sunday, the day after Gladiator Rock n Run's Last Blast, all moms participating in the event will receive a rose at the Adventure Fitness tent in the festival area, and the Six Flags Hurricane Harbor discount will apply to both Saturday and Sunday, so you can come back and splash around with Mom… or take her to breathtaking Sedona only 90 minutes north of the venue!
Stay, Blast, Splash, & Save!
While Six Flags Hurricane Harbor featuring Mammoth Falls, Serpentine Complex, Boogie Board Beach, is only steps away, Victory Lane Sports Park will be offering food and beverages at their on-deck sports bar Jersey's, along with a free entry for all Gladiator Rock n Run participants to catch all the action at their baseball tournament.
**Gladiator Rock n Roll Last Blast – May 9 in Phoenix, AZ – use code MRG10 to save 10%!
Local Accommodations within 5 minutes of the venue!
Days Inn by Wyndham Phoenix North – 21636 N 26th Ave, Phoenix, AZ 85027 (website)
Drury Inn & Suites Phoenix Happy Valley – 2335 W Pinnacle Peak Rd, Phoenix, AZ 85027 (website)
Hilton Garden Inn Phoenix North Happy Valley – 1940 W Pinnacle Peak Rd, Phoenix, AZ 85027 (website)
Hampton Inn & Suites Phoenix North/Happy Valley -2470 W Charlotte Dr, Phoenix, AZ 85085 (website)
The post LAST BLAST: A Gladiator-Sized Going Away Party in Phoenix – May 9, 2020 appeared first on Mud Run, OCR, Obstacle Course Race & Ninja Warrior Guide.
LAST BLAST: A Gladiator-Sized Going Away Party in Phoenix – May 9, 2020