DISTANCE LEARNING
Michael Cohen testifies that Trump threatened colleges over any release of his grades
Author: Scott Jaschik
Go to Source
Donald Trump and his representatives threatened the colleges he attended and the College Board that he would sue them if records about his academic performance ever became public, Michael Cohen said Wednesday in testimony to a House of Representatives panel.
In explaining why he calls the president a con man, Cohen said, in prepared testimony, "When I say con man, I'm talking about a man who declares himself brilliant but directed me to threaten his high school, his colleges and the College Board to never release his grades or SAT scores. As I mentioned, I'm giving the committee today copies of a letter I sent at Mr. Trump's direction threatening these schools with civil and criminal actions if Mr. Trump's grades or SAT scores were ever disclosed without his permission."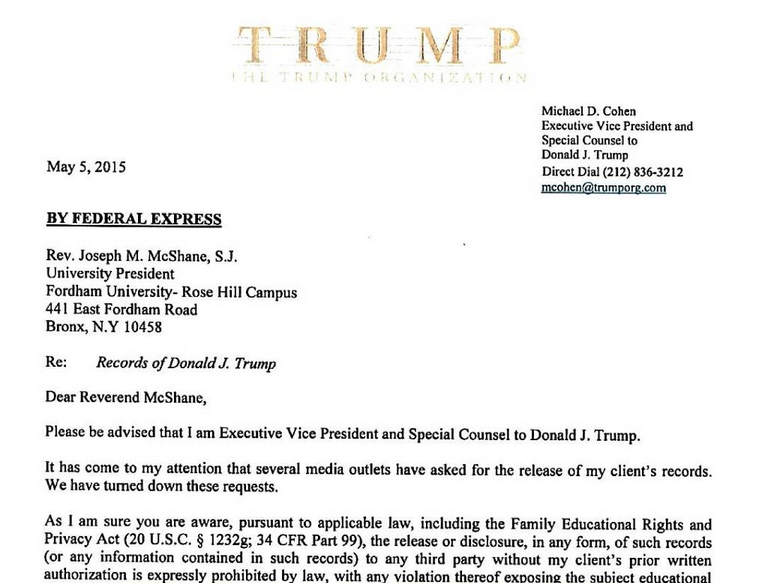 Trump attended Fordham University before transferring to the University of Pennsylvania, where he earned a bachelor's degree. Cohen released the letter he sent on Trump's behalf to Fordham, which cited the Family Educational Rights and Privacy Act, which indeed would bar any college from releasing grades without the permission of a student or former student. The letter said that Trump had become aware that journalists were asking for his grades, and so he wanted to reach out. The letter said that Trump would "hold your institution liable to the fullest extent of the law" for any release of his records.
The P.S. to the letter changes tone and says, "Mr. Trump truly enjoyed his two years at Fordham and has great respect for the university."
A spokesman for Fordham released this statement to Inside Higher Ed: "The university received a call from someone on the Trump campaign as now President Trump was gearing up for his run. We told the caller that Fordham is bound by federal law, and that we could not/would not reveal/share any records (as we would not reveal any student records) with anyone except Mr. Trump himself, or any recipient he designated, in writing. Fordham received a follow-up letter from one of Mr. Trump's attorneys summarizing the call and reminding us that they would take action against the university if we did, in fact, release Mr. Trump's records. Our stance remains the same: we obey federal law and don't release student records to anyone but the student/graduate or anyone that the student designates, in writing."
The College Board declined to comment on Cohen's testimony. Penn also declined comment.
Cohen's testimony noted that Trump, in 2011, had "strongly criticized President Obama for not releasing his grades" Cohen noted tthat "Mr. Trump declared, 'Let him show his records' after calling President Obama 'a terrible student.'"
Some grades of past presidential candidates have been released, sometimes with surprises. Documents that came out after the 2004 election showed that President George W. Bush earned slightly better grades at Yale than did John Kerry, his Democratic opponent, who was generally seen as the intellectual of the two 2004 contenders. But as NPR noted, Bush saw political benefit in boasting about himself as a C student.
Image Source: 
Getty Images / Mandal Ngan / AFP
Disable left side advertisement?: 
Is this Career Advice newsletter?: