CORRESPONDENCE COURSES
Ready to Rock: Rock 'n' Roll Marathon Series Introduces Safe Return to Running Guidelines
Author: Brett Stewart
Go to Source
Leaning on standards from the World Health Organization and guidance from the IRONMAN Global Medical Advisory Board, the Rock 'n' Roll Marathon Series releases its guidelines for operating upcoming Roll 'n' Roll Series events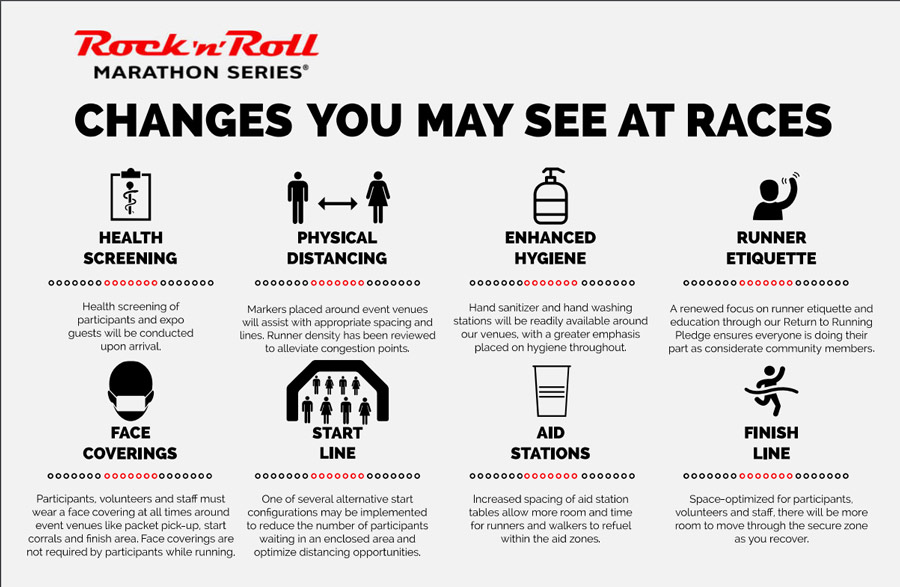 TAMPA, Fla. (October 14, 2020) – The Rock 'n' Roll® Marathon Series, part of The IRONMAN Group, today announced it is Ready to Rock with the release of its Safe Return to Running Guidelines, a series of comprehensive operating principles prepared in accordance with industry standards for open-air mass participation sporting events. Based on standards from the World Health Organization (WHO) and developed with guidance from the IRONMAN Global Medical Advisory Board (IGMAB), the best practices are designed to allow for Rock 'n' Roll Series events to be organized in a manner consistent with each local community's objectives and within the expectations set by public health entities around the world as they relate to the impacts of COVID-19.
With a focus on enhanced hygiene, touchpoint minimization, screening, education, density reduction, and self-awareness, Rock 'n' Roll events will continue to deliver an exceptional participant experience with necessary adjustments.
As a result, the Safe Return to Running operating principles are organized around five broad areas of contagion risk mitigation:
Enhanced Hygiene: Hand sanitizer, handwashing stations and disinfectant wipes will be readily available around the event venues. The cleaning of common venue areas will be enhanced. Staff and volunteers will be provided with face coverings and are required to wear the face-covering properly at all times around the event venue. Disposable gloves will be used in applicable areas. Participants will be provided with face coverings at packet pick-up, and participants are required to wear a face-covering properly around the event venues, including the start corrals and finish line area. Find the WHO instructional video on how to properly wear a mask here.
Screening and Education: Appropriate personal health, personal hygiene and safe support education and training will be provided for staff and volunteers in necessary functional areas. This includes Volunteer Smart guidelines for volunteers. Participants and volunteers will be required to complete a pre-event health questionnaire. Additionally, in many venues, no-touch body temperature screening will be instituted. Individuals with a body temperature of greater than 100.4º Fahrenheit or 38º Celsius will not be allowed to participate, volunteer or work.
Touchpoint Minimization: Touchpoints and points of interaction between staff, participants, and volunteers will be reduced or removed without compromising event safety and security. The redesigned and reimagined packet pickup, expo, merchandise, and finish line will minimize person-to-person contact, and racecourse zones such as aid stations will include more space for participants to minimize both participant-to-volunteer and participant-to-participant touchpoints.
Rockstar Run Smart Participant Support: Introduction of the 'Return to Running Pledge,' will emphasize participant responsibility for competitive cooperation, and consideration of our community while participating. Participants will be empowered to determine their individual level of self-reliance to further minimize interaction and touchpoints with other participants, volunteers, or staff. While plenty of aid stations will still be present along the course, participants will be encouraged to carry nutrition and hydration by utilizing items such as hydration vests and belts. Participants should review and embrace the Rockstar Run Smart Running Tips.
Density Reduction: Certain measures will be instituted to increase space for participants and supporting personnel in areas such as expo, packet pickup, the start line, and the finish line. Alternative start configurations may be implemented to reduce the number of participants waiting in an enclosed area and to optimize distancing opportunities. Modification or elimination of non-essential race services and functions, such as expo and merchandise may also occur.
"Safety has always been of the greatest importance for our events, and while the decision around when to host an event will ultimately depend on local communities and public health authorities, we have been working with experts and event stakeholders on how to conduct events safely in this new reality that allows for the continuation of positive economic impact for host cities, and the mental and physical benefits for participants that endurance events provide," said Andrew Messick, President & CEO of The IRONMAN Group. "With the recent success of 13 live events throughout Europe, Asia, Australia, and Latin America in The IRONMAN Group portfolio, this has furthered our development of the Safe Return to Running plan for returning to physical events and we believe that these guidelines will keep our participants, volunteers, staff and communities safe while still providing a positive and enjoyable race experience for all."
Implementing these best practices across Rock 'n' Roll events, including density reduction, through analysis of course participant density – primarily from runner flow data from previous races – indicates that providing the maximum available time for starting all runners will result in a reduced density across the course, at aid stations, and through to the finish line. Controlling and modifying the flow of runners from the start provides a measurable reduction in course density.
The Rock 'n' Roll Series endeavors to use this element – the modification of race start structure – as its guiding principle and the primary methodology for course density reduction, and improved running experience.
The Rock 'n' Roll Series has also developed a Return to Running Participant Pledge that emphasizes the renewed participant responsibility for competitive cooperation, providing space and time for everyone to participate safely. The Pledge will remain a component of the Rock 'n' Roll series of events and serves to empower participants to have their best event possible by running safely and considerately. Upon taking the pledge, participants can download a digital badge in acknowledgment of their commitment and cooperation.
The Rock 'n' Roll Series continues to monitor for pandemic updates from public health authorities such as the World Health Organization (WHO) and respective national organizations like the Centers for Disease Control and Prevention (CDC) and will continue to follow the guidance of local authorities when determining the status of Rock 'n' Roll events and programs. The decision to proceed, modify, or postpone will be based on the availability of community resources and ongoing event-specific risk assessments in coordination with the relevant healthcare and government authorities and the IGMAB. As the COVID-19 pandemic continues to evolve, Rock 'n' Roll is dedicated to adapting the Safe Return to Running Guidelines in line with the current environment. Additional COVID-19 resources and updates from Rock 'n' Roll are available at www.runrockroll.com/updates.
For more information on the Rock 'n' Roll Series, please visit www.RunRocknRoll.com. Media related inquiries may be directed to press@runrocknroll.com.
The post Ready to Rock: Rock 'n' Roll Marathon Series Introduces Safe Return to Running Guidelines appeared first on Mud Run, OCR, Obstacle Course Race & Ninja Warrior Guide.