Author: Andrea G
Go to Source
Become an expert at organizing visual information with this top-rated Udemy course.
How? With the course "DESIGN RULES: Principles + Practices for Great UI Design".
By who? By Udemy instructor Joe Natoli, UX expert.
"User experience (UX) design" is a field similar to graphic design, but much more focused on the users. There's a focus on not only making a design pretty, but making it easy for the user to understand. Joe Natoli, the course instructor, has over 20 years of experience on the UX world. He also has a rating of 4.4 stars on Udemy. So, you can be sure the training is among the best you can find.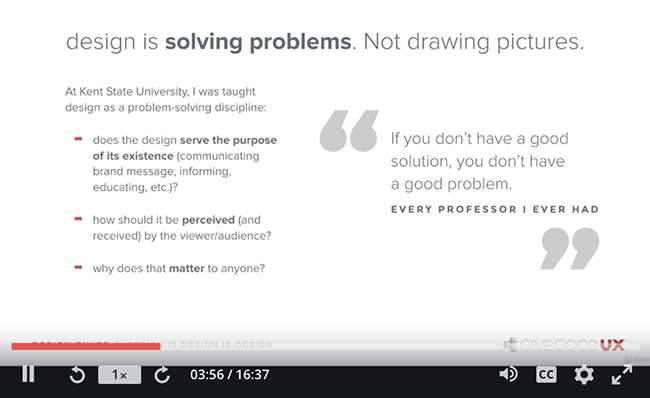 What will I learn?
According to the Udemy course page, it will lay out essential concepts for UI design, and design in general. Some of these lessons include:
Understanding the principle of "balance"
Understanding the principle of "alignment"
Learning to choose the perfect colors for any user interface
7 essential rules of typography design
Learn the basics of contrast, and how to apply it
How to create visual order
Call attention to important elements
"18 UI Design Mantras"
Plus, much more!
And what are people saying? The course has 4.6 stars currently, based off 1,861 ratings (as of April 2019).
Here are some of the promising reviews:
"I thought the course was an excellent summary of what makes a good UI design. The content was concise and comprehensive. Joe's breakdown of existing designs and his suggestions for improving them was especially useful. Thanks very much." – Amanda Y.
"Being a designer with almost 10 years worth of experience, this course was refreshing and a good reminder why I started designing in the first place, namely make thing simpler for consumers. Great and timeless, UX and UI principles, applied in design." – Julian C.
In addition, the course offers over 5 hours of on-demand video, and unlimited access to updates. So, go sign up if you're ready to try it! In any case, there's a 30-day money back guarantee, so you can be sure your learning is priority here.
As with all Udemy courses, you can also browse through similar courses of related categories.
The post Course of the Day: DESIGN RULES for Great UI Design appeared first on Learning Where.